Another clue lies in the pastoral landscape Thanos is overseeing at the end of Infinity War, which has a paradise-feel that's very similar to what we've seen from the Soul World in the comics. But in the case of the MCU, rather than Warlock being ruler, or the god of the realm, it's Thanos.
Now, Warlock's semi-introduction at the end of Guardians of the Galaxy Vol. 2 does complicate things a bit. Not only did director James Gunn make it clear the character won't be in Infinity War, the Russos have admitted they had to cut his role from their script, thus creating a gap between him and the Infinity Stones in terms of narrative. Of course, this could be misdirection to allow Warlock to be snuck into Avengers 4, a la how the Russos brought back the Red Skull, but Gunn has been adamant he'll arrive in the next GotG movie.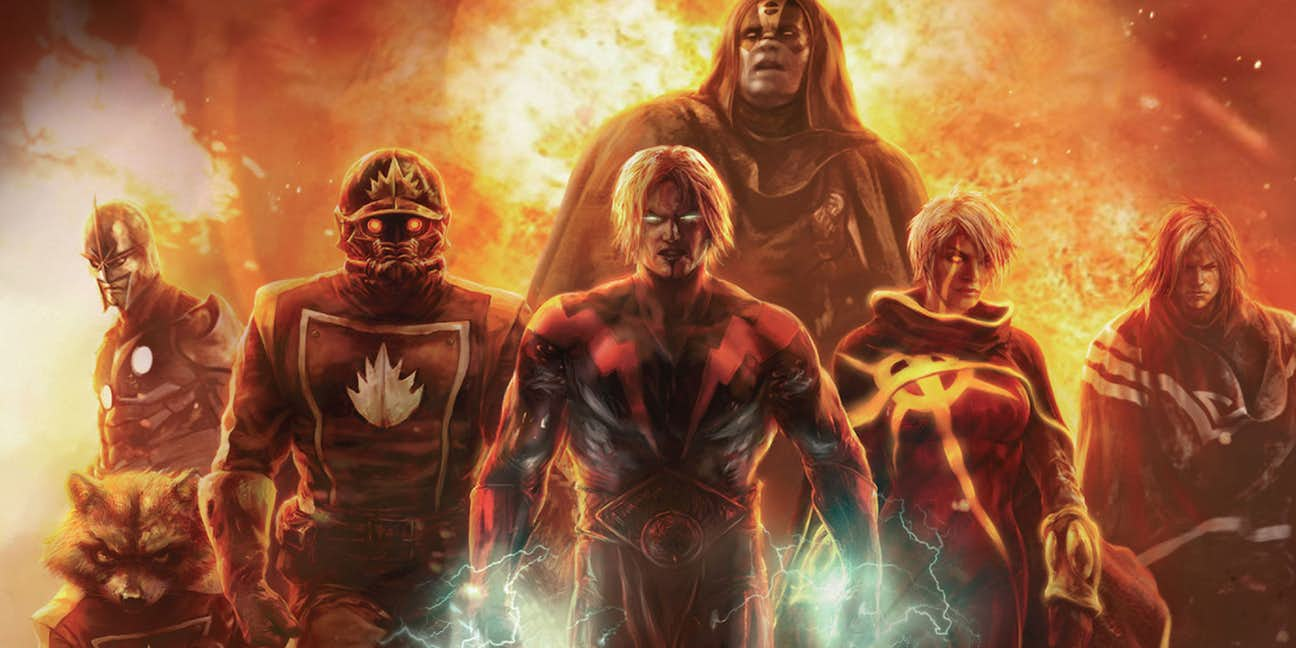 That said, with Ayesha and the Sovereign depicted as the engineers of Warlock, and because it's steeped in so much mystery, his creation could still be tied to the Soul Stone, and Gunn's GotGv3 statement doesn't negate plans changing, or a Warlock debut in an Avengers 4 post-credits scene. Maybe, some of the material used to make Warlock or his cocoon was extracted from the planet the Soul Stone was stored on — Volmir — which would allow him to play a future role in potentially freeing imprisoned souls.
RELATED: Where Does [SPOILER] Go At the End of Avengers: Infinity War?
It would be nice to have this rivalry between Warlock and Thanos introduced before Phase Four starts, even if it doesn't come to fruition. And whatever happens at the end of Avengers 4 doesn't necessarily have to negate the existence of the Soul World. This means that Guardians 3 could be where Warlock actually enters this world and explores it in depth, along with its inhabitants, because not everyone may have escaped the pocket dimension by the time Avengers 4 wraps.
Gamora's most likely there, and with Peter Quill, Drax, Mantis and Groot all withering away, too, who knows? Maybe it'll be up to Warlock, Nebula, new Guardians teammates like Quasar (who Gunn has teased in the past), and possibly new Nova Corps members, to bring back lost heroes from this Soul World. Either way, we now have the ideal setting to make Warlock's arrival an important one, and a game-changer in terms of the MCU's cosmic scope.
Directed by Joe and Anthony Russo, Marvel's Avengers: Infinity War stars Robert Downey Jr., Josh Brolin, Mark Ruffalo, Tom Hiddleston, Chris Evans, Chris Hemsworth, Jeremy Renner, Chris Pratt, Elizabeth Olsen, Sebastian Stan, Benedict Cumberbatch, Paul Bettany, Samuel L. Jackson, Cobie Smulders, Benedict Wong, Zoe Saldana, Karen Gillan, Vin Diesel, Dave Bautista, Pom Klementieff, Scarlett Johansson, Tom Holland and Anthony Mackie. The film is in cinemas now.
KEEP READING: How Agents of SHIELD Addressed Avengers: Infinity War